ScrapMatters is FOUR!! And we're celebrating!!!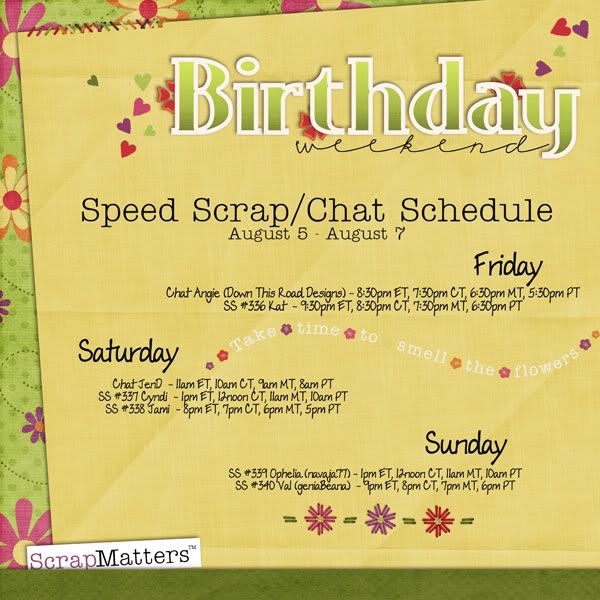 And now what you've been waiting for...your freebie! I hope you enjoy this quickpage freebie created by me using the new ScrapMatters Design Team Collab "Garden Party". Click image to download.
Make sure to stop at every stop along the way because...there's a BONUS! While riding the ScrapMatters 4th Birthday Blog Train, take a moment to check your downloads for a BONUS photo puzzle piece. There are 10 pieces total and when you find all 10, you can complete the puzzle, upload it to your favorite photo hosting site and send a link via PM to Kat through the ScrapMatters forum. All completed photo puzzles must be received by August 8th.
Here is the complete list of stops. Enjoy the ride!!!
3. Wendy:
http://wendys-craftycreations.blogspot.com/
4. Val:
http://geniabeanascraps.com/
5. Mary:
http://plumdumplingdesign.blogspot.com/
6. Jaime:
http://simplyjstudio.blogspot.com/
7. Jenn:
http://www.confessionsofadigitalscrapper.com/
8. Amber:
http://stolenmomentsdesign.blogspot.com/
9. Angie:
http://downthisroaddesigns.blogspot.com/
10. Tanya:
http://crossbonecuts.blogspot.com/
11. Erica:
http://ericazane.blogspot.com/
12. Krisi:
http://krisiskreations.blogspot.com/
13. Steph.designs:
http://lesdigisdesteph.blogspot.com/
14. Lina:
http://ldragdesigns.blogspot.com/
15. Ana:
http://sugaryfancy.com/blog/
16. Jenn H:
http://truebluestudio.blogspot.com/
17. Elise:
http://www.elisespieces.com/
18: Amy:
http://justus-mylifeinpictures.blogspot.com/
19: Cheri:
http://dreambigdigi.blogspot.com/
20. Christina:
http://www.wimpychompers.com/
21. Yari/Jady Day Studio:
http://www.jadydaystudio.com/
22. Kimbytx:
http://kimbytx.blogspot.com/
23: Calliclaire:
http://www.calliclaire.blogspot.com/
24: KimB:
http://kimbsdesigns.blogspot.com/
25. Jenn
http://www.thetypativescrapper.blogspot.com/
26. Fran
http://franscraps.blogspot.com/
27. Ophelia
http://www.navaja77digiscraprealm.blogspot.com/
28. Amanda
http://mhkscraps.blogspot.com/
29. Heidi
http://myfamilyscrappings.blogspot.com/
30. Fiona
http://mydigaddiction.blogspot.com/
31. Kendall
http://majorscrapitude.blogspot.com/
32. Neverland Scraps
http://neverlandscraps.blogspot.com/
33. Heather K
http://createdbyheather.blogspot.com/
34. Manda
http://sankostudio.blogspot.com/
35. Melissa
http://yzerbear.blogspot.com/
36. Trista
http://tristaree.com/
37. Annisa
http://themeyersfamilystory.blogspot.com/
38.Chel:
http://scrappingchelcreations.wordpress.com/
39. Melanie:
http://live-capture-create.blogspot.com/
40. Heather W:
http://heatherw25.blogspot.com/
41. Sharon:
http://quietangelsb.blogspot.com/
42. Amy:
http://melniczenkomusings.blogspot.com/
43. Cathy:
http://scrappycath.blogspot.com/
44. Kat:
http://katdesigned.blogspot.com/
45. Becca A:
http://www.beccas-paper-view.blogspot.com/
46. Crystal:
http://www.sugarpiescrapping.blogspot.com/
<<<-----YOU ARE HERE
47. Day:
http://digiinspirations.com/blog/